Fuel your workout and game with new CR7 Drive
"My entire life i have been driven to be the best. I work hard and look for every advantage. This is why i partnered with Herbalife a global leader in nutrition" Ronaldo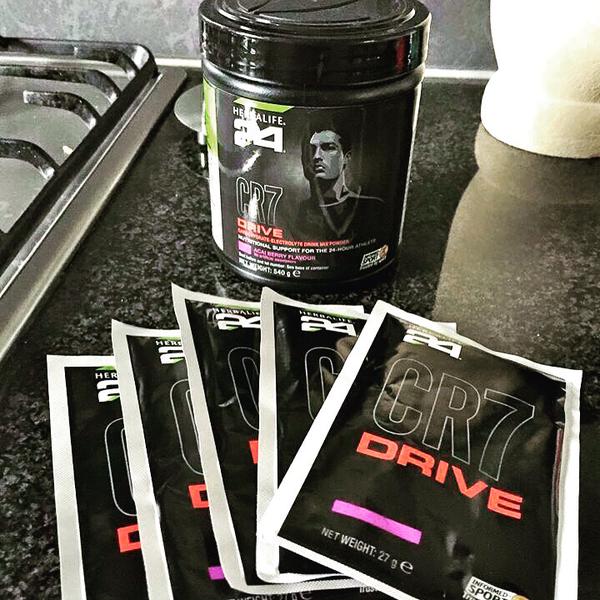 In the competitive world of professional sports, good nutrition can be a key advantage. Global sports icon and international soccer star Cristiano Ronaldo believes that it is essential. That's why the Portuguese winger/forward joined forces with Herbalife to promote great nutrition and regular exercise for people of all activity levels.
"I strongly believe in the importance of the right nutrition for me as an individual, both on and off the field," says Ronaldo. "I am looking forward to working with Herbalife, as a company that shares my passion and brings such expertise and knowledge in the area of sports nutrition."
CR7Drive
Enhance hydration with 320mg of vital electrolytes lost during exercise.
Brain-fueling glucose helps promote quick and accurate game-time decision making.
Easy to digest carbohydrate blend helps fuel muscles and sustain energy levels.
Lighthly flavoured with no artifical flavours or sweeteners.
Contact us for more details on this new hypotonic drink
Performance Nutrition – Science shows that proper nutrition at the cellular level is at least as important to both health and athletic performance as strength training, cardiovascular training, and recovery time. In fact, it's the foundation for everything else. When you've trained as hard as you can, supplementing your diet with nutrients designed specifically to boost muscle growth, recovery, circulation, energy efficiency, and resilience of muscle fibers and connective tissue make all the difference.
Performance nutrition is more than a whey protein shake or sugary drink sold by fizzy drinks company on the high street..
Trusted by Sport – Informed-Sport is a quality assurance programme for sports nutrition products, suppliers to the sports nutrition industry, and supplement manufacturing facilities. The programme certifies that all nutritional supplements and/or ingredients that bear the Informed-Sport logo have been tested for banned substances by the world class sports anti-doping lab, LGC.